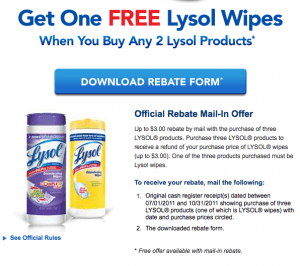 Purchase three LYSOL® products to receive a
refund of your purchase price of LYSOL wipes (up to $3.00)
. One of the three products purchased must be Lysol wipes.
Head on over
HERE
to print coupons for Lysol products, then keep your eye on the sales at Walgreen's, CVS and Rite Aid over the next couple months to make this deal even better!
To receive your rebate, mail...
Original cash register receipt(s) dated between 07/01/2011 and 10/31/2011 showing purchase of three LYSOL® products (one of which is LYSOL® wipes) with date and purchase prices circled.
Thanks
Koupon Karen
!